ISSA GOAAAAAL!!
With the World Cup semi-finals in Russia around the corner and Neymar earning £775,477 a week (yes, that's true), we take a look at whether the money in the biggest sport in the world has gotten out of hand.
The beautiful sport we've grown to love today started in 1863 in English schools and universities (though, more ancient variations of the sport can be traced back to Ancient China in 2500 BC). Back in the day, there was no offside rule or even referees – the captains would settle any disputes. Since the English had established their own football association (the FA), the Europeans wanted to get involved. After the first ever international match of Belgium vs. France in Brussels on 1 May 1904, Robert Guérin (France) and Louis Muhlinghaus (Belgium) discussed starting their own European federation as the English did not want to participate in the creation of an international federation. Eventually, Fédération Internationale de Football Association (FIFA) was founded in 1904.
Today, professional footballers at the top of their league can expect to earn more than nurses, teachers and many others. Should a footballer earn £50,000 a week, whilst the average teacher in the UK earns under £600 a week? Premier League clubs spent £419.5 million in the January 2018 transfer window and £1.4 billion last summer. Neymar broke records and has become the most expensive player in the world after moving from Barcelona to PSG for £198 million. He now earns £775,477 a week. This year Mbappé broke records as the most expensive teenager (20 years old) when he moved from Monaco to PSG £128 million. Imagine your son earning £265,448 a week, and that doesn't include sponshorship deals and international game salaries! You can use this calculator from the BBC to see how long it would take you to earn the salary of your favourite footballer. You can even see how much money he has earned whilst you've been on the site, compared to you, so use at your own risk, it may induce depression.
Where does the money come from?
Ticket Sales: Games aren't free to watch live. Fans can pay to watch a single game or buy season tickets. Wealthy individuals and companies may also purchases boxes, which offer a more private way to enjoy the game live. With the most expensive season tickets in the world, it's no surprise that Arsenal earn the most from ticket sales. In 2017, Arsenal earned £116 million from ticket sales, which is £4.2 million a game. This is approximately 3.5x the Premier League average and accounts for 29% of their total revenue.
Jersey Sponsorship: Starting in 1977, large companies such as Samsung, Standard Chartered, Carlsberg and many other big companies have advertised on football jerseys –  even Angry Birds got on the sleeve of the Everton jersey. On average, Premier League clubs earn £11 million from shirt sponsorship. Though, the largest deal is between Manchester United and the car manufacturer Chevrolet. As a result, Manchester United will earn £53 million a year for 7 years (2015-21).
Kit Deals: Sponsorship isn't the only way football clubs make money from their shirts. Teams also make deals with companies such as Nike, Adidas and Puma to supply football kits for players to use, but they also manage their clubs merchandise and distribute it through their channels. FC Barcelona and Nike recently announced a 10-year extension to their current kit deal, in which Barca will earn £100 million a year until £2027/28. This trumps Manchester United's £75 million deal with Adidas.
Stadium Naming Rights: In the past, stadiums in England were named after the neighbourhood they dwelled in e.g. Old Trafford, Stamford Bridge etc. Now, clubs can earn millions by attaching a corporate moniker to the names of their stadium. Emirates Airline paid Arsenal £100 million for 15 years of naming rights on the stadium and 8 years on the jersey.
Tournament prize money: Teams all over the world participate in different national and international tournaments that are organised by the relevant governing football associations. For example, 32 teams compete in the World Cup every 4 years. All teams are paid £7 million for participating, then extra payments are given to those eliminated at different stages in the tournament – the winner is paid around £26 million. The UEFA Champions league pays the highest prize money in the world with £1.257 billion distributed among participants, compared with £300 million for the World Cup.
Broadcasting Deals: Sky pioneered this earning stream in the early 90s, now today this is where the largest clubs make most of their money. The Premier League is most the most lucrative domestic league in the world, with Sky (126 games) and BT sports (42 games) sharing the rights for a £5.136 billion deal signed in 2015. Deals are also signed with oversees broadcasting companies which give some clubs a chance to earn even more. In the Premier League, 50% of the TV money is shared equally amongst the 20 clubs, 25% is based on their performance that season and 25% is dividing depending on how many matches of the club was shown live (roughly £1.23 million per live game). Since Manchester United had the most games shown live, for the 2017/18 season, they actually earnt more (£159 million), compared to the champions Manchester City (£156 million).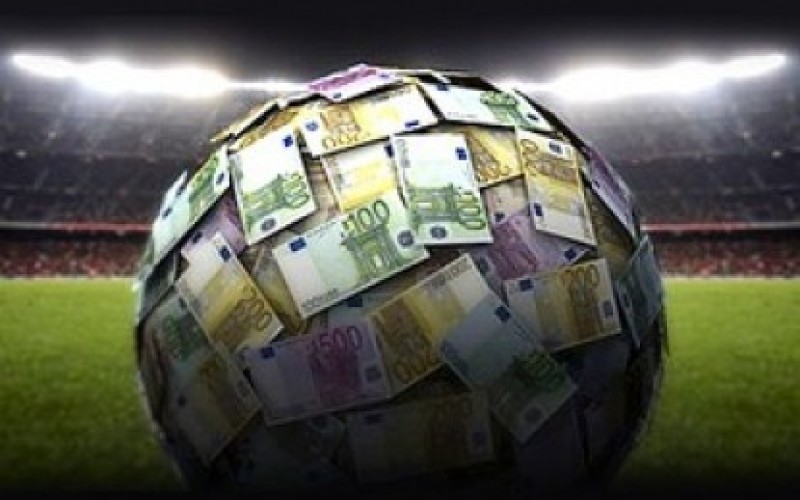 Reasons why there is too much money in football
They are only kicking a ball around: Some believe this skill is incomparable to the hard work that firemen endure throughout their careers. The average week of a footballer includes 4-5 hours of training a day (2 sessions) for 5 days a week and 1-3 matches per week. By the end of this week, they can buy a house in Burnley in cash. A fireman works 48 hour shifts and deals with the psychical and psychological trauma of what they encounter, only to be paid £28,000 and struggle with mortgage payments on a house in Burnley. These people risk their lives and it is certainly isn't reflected in their money.
Only the players, managers and board members are paid well: Groundsmen, catering staff, security men and others barely earn above living wage. Also, their pay does not rise with experience. In the winter, they are out there standing in the cold, dealing with many hooligans and getting the odd glance of the game, only to earn under £20,000 a year.
Fans contribute so much financially to the sport, yet receive no monetary value back: This is something that very few people touch on, but in all sincerity, there would be no money in football at all if it weren't for fans shelling out hundreds and thousands of pounds in ticket and merchandise purchases. With this being the case, the only return that the fans see for there investment (yes, it is an investment) is the possibility of the teams and players they support one day winning accolades. Rarely do you hear of fans receiving a cut in the clubs winnings or the opportunity to see their club play for free as a reward to their dedicated support.
The money is killing the passion in the sport: Football clubs have been the next big status symbol for billionaires and they do exert influence on the game and communicate with players to influence transfer decisions. You hear stories of players literally holding their teams to ransom and refusing to play in the hope of receiving higher wages. Families getting displaced due to clubs selling players to cash in on their current market value. Discord in dressing rooms as some players feel entitled to the same wages that their club are paying their teammates. All of these things take the players minds off what they are actually being paid to do – play football. In recent years, it has become increasingly easier to spot the players who are not giving 100% week-in week-out on the pitch and in this modern age of social media, it's clear to see a lot of footballers putting a higher interest into designer trends and expensive holidays than they do into the game.
Lack of financial education causes many players to waste money: This is something that may be down to the players themselves or it may be down to a systematic oversight of footballing academies, clubs and agents but, the sad truth is that we live in an age where it is not a surprise to hear that a player has gone bankrupt or fallen into addiction soon after retiring or even in their latter years playing the sport. Conspicuous spending is rife among players who would rather splash their wages on fast cars, nice watches and lavish living, than think about possible investments and how they could sustain their lifestyle once the paychecks stop coming in. A lot of players live in the here and now, and believe that even though they are retiring at half the actual retirement age of the nation, the money they are earning will sustain them.
Reasons why there is not too much money in football
Footballers work very hard before and during their professional careers: Very few footballers make it big. Some argue it takes more talent to become a professional footballer. They train 5 days a week (twice a day) and play matches once or twice a week. They follow a strict diet plan and have a high risk of injuries. Only 4,000 players play professionally compared to the 250,000 doctors in the UK. In addition, most of their childhood is dedicated to football. Young footballers can expect to be in training for a minimum of 3 days a week. Pogba, who earns £290,000 a week at Manchester United has played competitive football since he was 6.
Footballers have very short careers: The official retirement age for the general working population is 63 for women and 65 for men. Whereas, the maximum age of retirement for a player is around 35 depending on fitness levels. Goalkeepers may last up until 39. This is assuming injury does not chase them out of the game before then. Many footballers find retirement traumatic and the choice of jobs after retirement is limited. Some may become managers at grass root level, work as an ambassador for a federation like FIFA, become a football pundit or journalist. These jobs most likely don't pay anything close to what they earn on the pitch. Since most of them don't have degrees and they are public figures, working in other industries is highly unlikely.
The demand for the game is incredibly high: 3.2 billion people watched the World Cup in 2014 – it is the most watched live event on TV. There is a high entertainment value of the sport, with fans paying hundreds of pounds to watch home and away games. Generations of family members may support the same team, or different teams and this shows the passion for the game. People are given a chance to connect over it. Look at the popularity of Arsenal Fan TV over the last few years. Fans such as Troopz and Ty have been able to make a name for themselves due to their hilarious and heart-felt post-match analysis.
The clubs earn high amounts and this will be reflected in salary: As we reviewed above, there is a lot of money in this industry, and the salaries are simply a reflection of that. Manchester United earnt a revenue of £560 million in 2017 and the centre of it all is the players.
Only a few footballers earn killer amounts: Only 10% of footballers make it to the professional level and it's only the most skillful and talented that earn over £100,000 per week. For example, in the UK, an average Championship player earns £8,500 a week, League One players earn around £2,500 and League Two players earn around £1,500 a week.
Tax: Due to them being in the highest tax bracket, their take-home income is considerably less than what is quoted. At least, this increases the government's tax revenue.
Charity: Many players donate their earnings to charity. Christiano Ronaldo, who is worth £400 million has been named the world's most charitable sports star, having donated millions of pounds of his fortune to charity. Common Goal is a charitable movement run by streetfootballworld that was launched with the support of Juan Mata. Donated salaries are used to invest in the communities that raised today's stars. The list of players, coaches and high-profile figures to have joined Mata in pledging at least 1% of their salaries to Common Goal continues to grow.
All in all, money plays a large part in 21st century football, but the game is still at the forefront of the sport. It is admirable how they continue to innovate the game and introduce technology to aid the referee and officials to make better decisions. World Cup hosts can expect economic benefits years after the competition has ended and local economies are boosted in countries that last to the later stages of the competition. Essentially, fans create the demand, but the talent of the most skilled players is undeniable. Football is a beautiful and captivating game that continues to change the lives of many all over the world.